Best Lawyers® Names VSG Partner Shelley Slade a Best Qui Tam Lawyer and Qui Tam Lawyer of the Year in DC
September 16, 2021: Vogel, Slade & Goldstein, LLP, is proud to announce that in its 2022 edition of Washington, D.C's Best Lawyers, Best Lawyers has named partner Shelley R. Slade "Lawyer of the Year" for Qui Tam Law in Washington, D.C. Best Lawyers grants its "Lawyer of the Year" award to the lawyer who received the highest overall ratings from his or her professional peers in their practice and metropolitan area.
Ms. Slade was also once again named a "Best Lawyer in America for Qui Tam Law" and a "Best Lawyer in D.C. for Qui Tam Law" in the 2022 editions of The Best Lawyers in America and Washington D.C.'s Best Lawyers.
Ms. Slade is an experienced qui tam lawyer who has focused exclusively on False Claims Act matters for over 30 years. In recent years, she has focused her practice on the representation of individuals blowing the whistle on pharmaceutical manufacturers and pharmacies defrauding Medicare, Medicaid and other government health programs. The cases that she has personally handled as lead counsel in the last decade have led to more than a billion dollars in recoveries for the federal government and the states.
Thus, Ms. Slade was lead attorney for the two whistleblowers whose qui tam case led to a $209 million recovery from Walgreens in 2019 to resolve allegations that the chain billed government programs for medically unnecessary quantities of insulin pens. She was also lead attorney for the whistleblower who in 2015 recovered an aggregate of $465 million from Novartis and two specialty pharmacies for alleged kickback schemes involving the hugely expensive medications Myfortic and Exjade. She was lead counsel for a whistleblower whose case, alongside that of a second whistleblower, led Pfizer to pay $491 million in civil damages and criminal fines to resolve allegations of an off-label marketing scheme by its subsidiary Wyeth. Another of her clients brought actions that helped the Government recover a total of $118 million from long term care pharmacy Omnicare for alleged receipt of kickbacks and "usual and customary charge" overbilling schemes and $149 million from Johnson & Johnson for alleged kickbacks paid to Omnicare.
Ms. Slade co-chairs the Procurement Fraud & False Claims Committee of the ABA's Public Contract Law Section. For more than ten years, she served on the Board and the Executive Committee of the public interest, non-profit organization, Taxpayers Against Fraud, an entity dedicated to fighting fraud against the government by working to protect whistleblowers and strengthen the effective operation of the laws that empower them to expose misconduct and the theft of taxpayer dollars.
Ms. Slade has twice testified before Congress as an expert on the False Claims Act, including with regard to the 2009 Fraud Enforcement & Recovery Act amendments to the False Claims Act.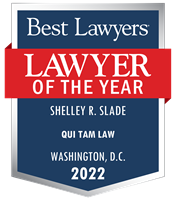 For forty years, Best Lawyers has honored highly respected lawyers with awards based on detailed surveys of their professional colleagues. To be recognized by Best Lawyers, a lawyer must first receive a nomination. Then, Best Lawyers interviews currently recognized lawyers in the relevant practice area about the nominee and analyzes this feedback to determine which nominees deserve recognition. Only those lawyers who receive significant positive feedback on these peer review surveys are recognized by Best Lawyers, and they must continue to receive positive feedback to remain recognized.